From Paris to New York
It was only a matter of time until the Parisian institution and its prized French macarons would delight the gourmet New Yorkers' sweet tooth. With its distinctive wood-paneled exterior in an almond green, Ladurée has opened at 864, Madison Avenue. The sweet confections please the tastebuds and the eyes, besides making for perfect gifts too—the Eugénie Box with its decor à la Versailles, for one.
Ladurée Salon de Thé at Rue Royale
The Parisian original location defies the appeal of any jewelry store. The room reminisces of the leisure times of the past, with ceiling paintings inspired by the techniques used at the Sistine Chapel, etched glass, polished brass trimmings, and framed mirrors on paneled walls. Shaded lamps on the marble counter complete the elegant atmosphere as they gleam on macarons and scrumptious pastries.
Sitting in the café area, we eye the cheerful, natural colors of the multi-flavor meringues in refrigerated display cases. Often copied but never matched despite the recipe books, you get more than what you see. Ladurée will only say that they are a combination of almonds, sugar, eggs, and the elusive touch of je-ne-sais-quoi, a secret pinch of know-how.
You may now ask, is it macarons or macaroons? In brief, Ladurée's delicacies are called macarons. Macaroons are made of shredded coconut and macarons of almond meal. Both are made with egg whites and they are gluten-free since there is no flour.
I hesitate until I choose vanilla, praline, black currant, then licorice, as I would select light to strong cheeses. The confection consists of a crème filling holding together two delicate meringue shells. A bite into it turns into it a blissful mixture of textures and sweetness. Unlike imitations, the meringue doesn't break, it melts, and the ratio with the filling is just right, and although it's sweet, it's not overly sweet.
I sip tea to prepare my palate for each flavor, taking my time in this environment conducive to enjoying the moment. "A weakness for sweets is a noble approach to everyday living," since I couldn't agree more with the store philosophy, I also indulge in a larger version of a macaron, with fresh raspberries for good measure.
Ladurée Extended Product Line
With its penchant for refinement, Ladurée has extended its product line to merchandise well-suited for sophistication, and packaged in an elegant gift box:
Chocolate boxes with names such as Souris-Chérie and Incomparable Box
Cookies (called biscuits) such as Langues de Chat and Tuiles
Cakes such as the Black Forest Gâteau in the shape of a pair of cherries
Champagne Billecart-Salmon: A noble Blanc de Blanc dedicated to purists
Candles: Adagio and Othello release a romantic glow and a voluptuous scent
Beauty Collection: Violet face water, bonbon shower gel, almond face cream
Home fragrances to wrap your home in the chic atmosphere of a salon
Baby Collection: Embroidered bibs (with a box of macarons for the new Mom)
Shopping bags: Do it in style with a Charms Grey or Mademoiselle Fifi bag
Gift collection: Smart key chains, scarves, labels, ink stamps, and scrapbooks
Breakfast, lunch, dinner, or a party at one of Ladurée's houses is akin to dreaming of being Madame de Pompadour's guest. Closer to reality, you would have sent an invitation to friends—on a Ladurée e-card.
The Globalization of a Tradition
Originally founded in 1896, Ladurée macarons were a secret known only to Parisians and select visitors, then the family-owned business became an institution. In 1993, Ladurée's name for traditional quality expanded with a new line of flavors and products for the discerning consumer. A new store even opened on the Champs-Elysées under the leadership of Pastry Chef Paul Hermé, and dozen more worldwide. The rest is sweet history.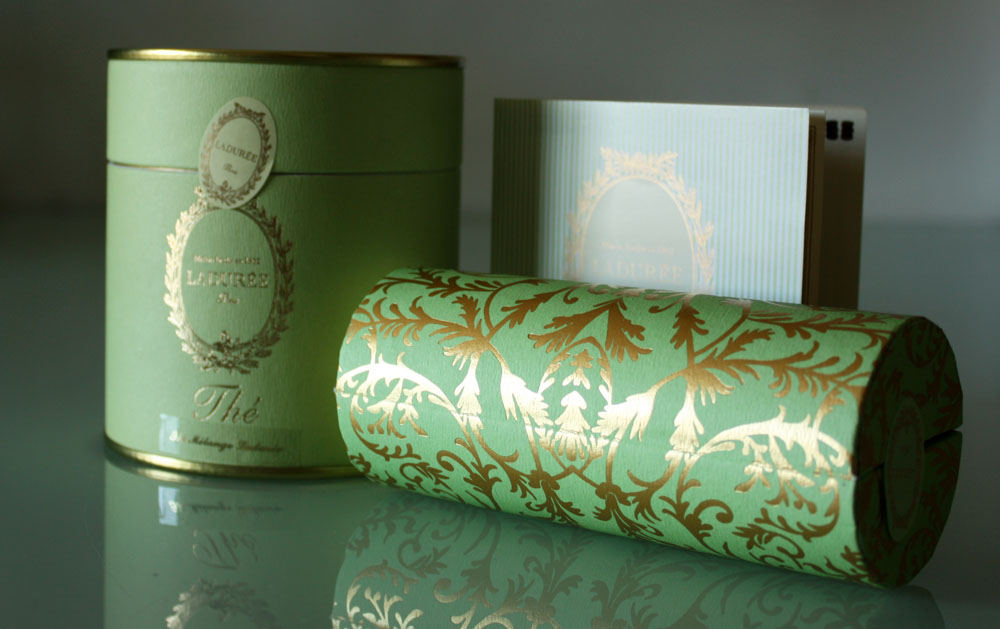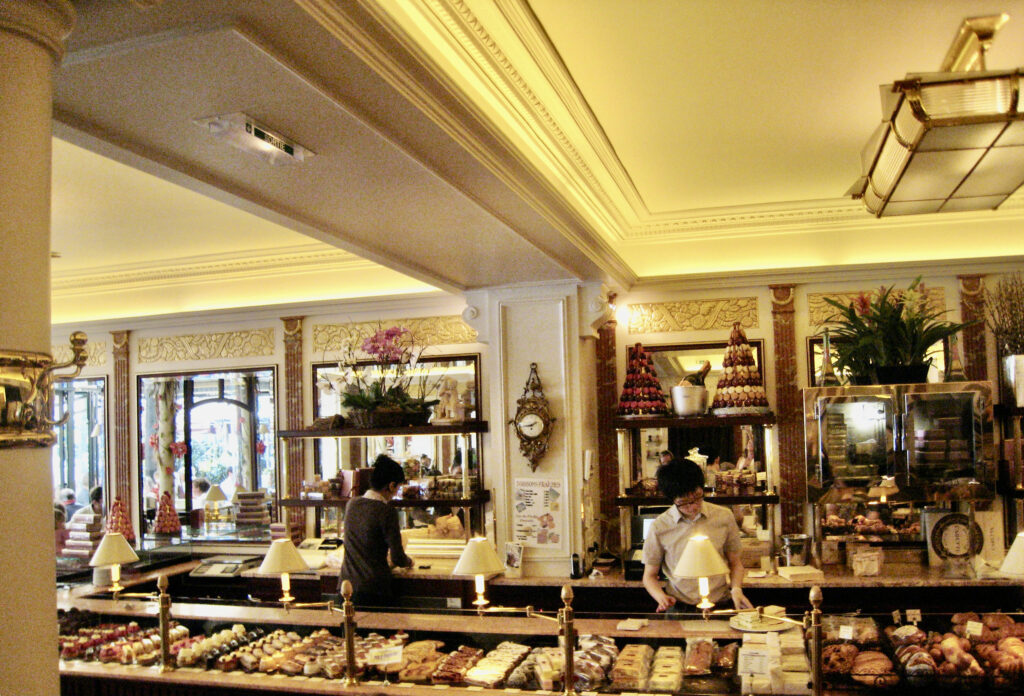 First published 2011 Suite101.com