Even Ganesha the deity for wisdom is of no tempering influence. As a result, I deal with temptation by giving in and the laughing Buddha appears to agree. Besides, if I resisted buying something in Delhi, it tempted me in Agra, the last city we visited on our train tour through Rajasthan.
Past and Present
Shopping is a captivating and cultural experience in India, thanks to handicrafts as diverse as the ethnic backgrounds of its skilled artisans. Through 5,000 millennia, they adapted to various materials and influences to meet religious needs, those of villagers and urban settlers, and the ever-demanding elite. Among them, the Mughals introduced a sophistication that was revived after British rule.
Today, India introduces handicraft appreciation in schools. There, young people learn to understand and respect the handicraft tradition, the connection between creator and consumer, and the tools to expand these skills into contemporary applications.
How does one choose between street vendors, shops, and government stores? Like anywhere else, the items sold on the streets are cheap and usually of lesser quality. Shops and their outdoor displays might produce some of the wares they sell, or not. Either way, what you buy from these vendors directly helps their families.
This said, to be sure of what you buy, visit Cottage Industries stores where the government controls the prices. For this reason, they might seem more expensive than at unregulated emporiums. Most cities sell the same products, but prices and choices are better in the region that produces them.
New Delhi: Textiles and Wood Art
Like toddlers prevented from getting into trouble, shortly after we walk out of our Delhi hotel one shop/scouter after another stops us. They know which bazaars and markets we should go to and it's exactly what we don't want to do.
Never mind, we end up crammed on a rickshaw for an unforgettable initiation to India's street life. I clutch my husband's arm all the way to the Bazaar of Cottage Arts located on an unexpectedly quiet lane. Shopping continues on the boisterous streets of Chandni Chowk where prices are said to be the cheapest in India.
In India, cotton is as traditional as silk, and of excellent quality. In fact, it was a cultural symbol of rebellion in a movement instigated by Gandhi, against the influence of the Raj. It's widely used in Rajasthani clothing: turbans for men and flared lehenga skirts for women.
As for silk, I discovered more kinds than I knew existed: fine, Jamabar, raw, spun, Tussar, crush, and organza. And more color variations than I could name. The choice appears endless, which is why Delhi is the best place to shop for textiles:
Clothing material and home furnishing fabrics
Saris, shawls, scarves
Pillows and table runners made from recycled saris (cut into squares to avoid stains)
Cotton khadi wraps—worn like bibs
Cotton bed covers with silk embroideries
Bed and kitchen linens
Carpets in silk or wool (wool is coarser in India and therefore of carpet grade.)
Handbags and clutches (embroidered) in all shapes and styles.
Delhi has also the best selection of wood art, although they are sold everywhere in Rajasthan:
Carved animals
Indian deities
Hair pong
Beads
Chess-sets
Colorful bookmarks (I imagine a collection displayed in a box frame)
Jaipur and Chittorgarh: Jewelry
Indian royalty ingrained its legacy in the refinement of its ethnic jewelry and in the use of semi-precious stones. Indians love gold jewelry and buy a lot of it, especially on Goddess Lakshmi Day— the Buddhist symbol of wealth and prosperity.
Indians see gold as the best investment and represent 32 percent of the global demand. It's also a measure of social status since the abolition of the caste system.
Among the most prominent pieces is Thewa jewelry, an intricate filigree work on 23-carat gold, set on colored glass. The multi-hued glass bangles from bazaars or jewelry made of fabric or silver are more affordable. And grass jewelry is something to admire.
Jaisalmer: Paintings, Camel Hair, Leather Goods
Here, heritage skills centers teach crafts and arts under INTACH, a non-profit organization whose mission is to preserve and develop traditional crafts.
During our camel ride in the Thar Desert, we come across locals riding to a festival. I imagine some of them creating beautiful handicrafts from camels in the seclusion of their sandy environment:
Camel hair blankets and rugs
Embroidered camel leather and fabrics
Miniature paintings
I choose a miniature watercolor depicting Laila and Majnu (the legendary unfortunate lovers). My husband falls for a tiger since they were elusive in Ranthambore National Park.
Jodhpur: Puppets, Antiques, and Footwear
The introspective stare of wooden puppets in bright ethnic costumes and heavy make-up remind me of a young girl at that festival in the desert. Each element of her attire represents her Indian ceremonial heritage, and each part of it can be bought as a single piece.
Antique hunters won't be disappointed. Architectural fixtures abound carved moldings, the embossed base of stone pillars, and framed inlaid glass. Some of the discarded spice cabinets made in the East might be repurposed as character elements in a modern home in the West. The point is that they are made of natural wood by artisans who created one piece at a time. Shipping is available but if you can't have a whole door, the metalwork of their locks is worth displaying in a box frame.
I turn to more packageable items such as the leather juthis footwear: nicer and pricier than at street markets, but better made because of a United Nations program that sponsors the revival of shoemaking.
Udaipur: Dyes, Teas, Spices, and Stationary
By the time we get to Udaipur, every nook and cranny of our Palace on Wheels train accommodation is full. Instead of shopping, I browse the workshops adjacent to the City Palace Museum store. I watch craftsmen crush minerals to make pigments for watercolor painting. Other artisans delicately strike handmade paper for artful stationery that makes you want to collect them. Vials of ayurvedic oils, tea, and spices are the only space-minding buys I consider.
Months after returning home, the whiffs of spices and oils that linger in our luggage remind me of India's skilled artisans, and of the laughing Buddha.
(Zoom to enlarge the photos)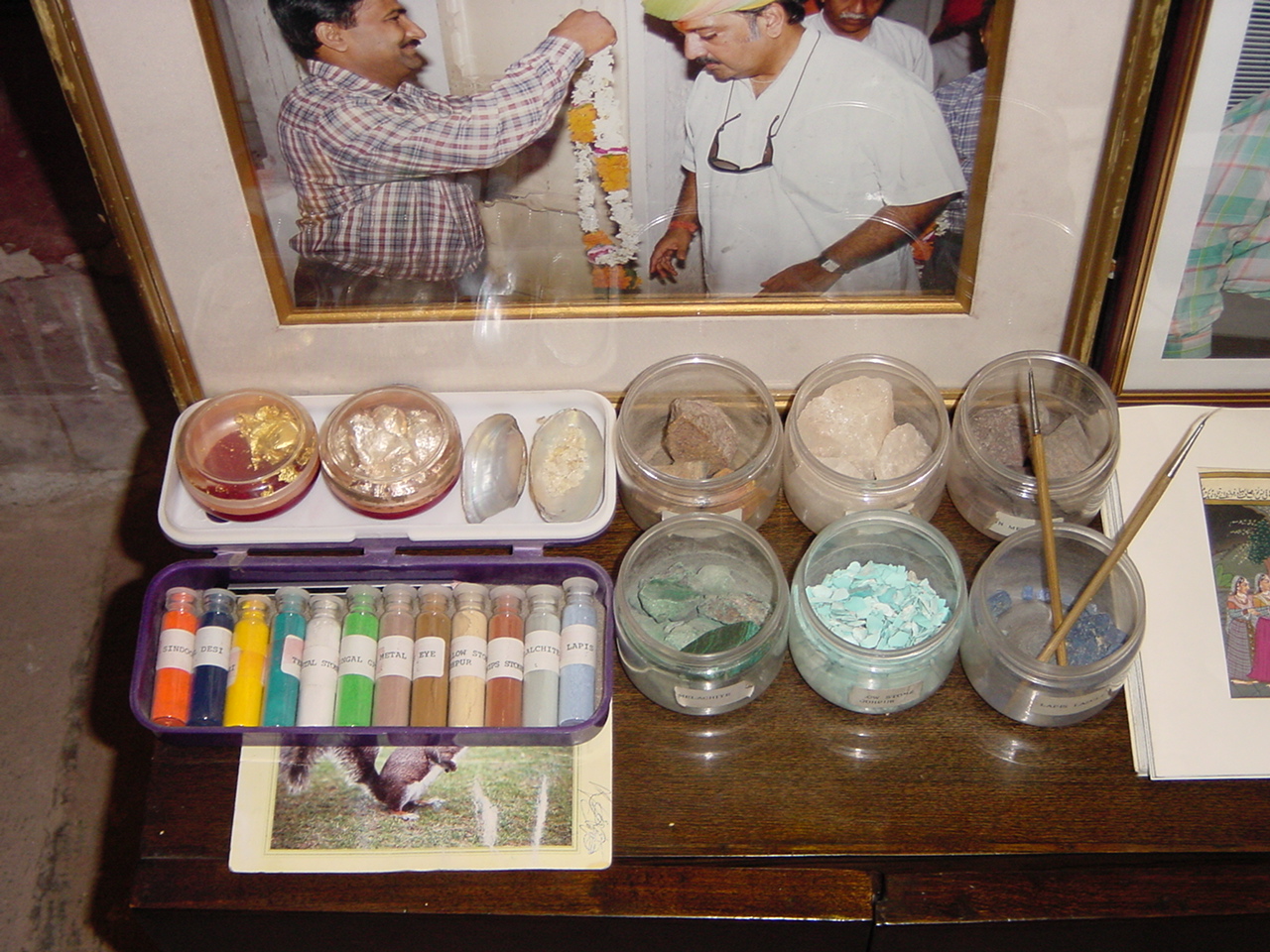 Original article Buckettripper 2012 – Revised 2022