Streams of lights fell like incandescent snowflakes; children's books and cartoons characters hung from small-scale hot-air balloons and parachutes. Only Santa had brought more excitement at the Opryland Hotel!
Nashville is famous as the home of country music, the Blue Bird Café, the legendary Grand Ole Opry Hall, and Gibson guitars, but the Tennessee capital holds our memories of a Christmas extravaganza.
You might not deck your halls before December, but Opryland does. It takes months to hang 180 miles of strings with two million (LED) lights outdoor, plus 200,000 lights indoor, and some 15 miles of garlands all over. It took almost a week to decorate the 26 magnolia trees of the 40-acre resort. Did I mention ten miles of red hand-tied ribbons? Numbers kept blowing my mind. Imagine 36 truckloads of ice delivered over 15 days.
Located seven miles from downtown Nashville, Opryland is a part of the Marriott portfolio of brands, and the flagship property of the Gaylord Hotels. The festivities begin on the second weekend of November and end in early January. A Country Christmas has been an Opryland tradition for over 30 years, and a reminder of the foundation of Nashville on Christmas Eve, in 1779.
Looking out from the balcony of our inside-view room felt as if we were a part of the decor. From the Cascades Skywalk, we did what people around us did. We stopped, spellbound by the sounds and sights. We listened to carolers, spotted gnomes peeking from under the bushes, and joyfully greeted Christmas characters. In the nine-acre Garden Conservatory in full bloom under the dome of glass and metal, walkways led us to theme-flowerbeds filled with full-size trees, bushes, and some 500,000 tropical plants. The poinsettias alone made their seasonal statement: gazillions of them! And anywhere they could be strung, lights twinkled.
Ambling along the lively street setting of Delta Island made us forget we were inside a climate-controlled biosphere. By the time we got to the Frostbite Factory, there was no end to our amazement. Two million pounds of ice had been carved into a complete Nativity scene and ice sculptures as clear as Waterford crystal—the result of "de-ionized water slowly frozen to allow the molecules to line up."
Opryland is spectacular in any season, but Christmas highlights its signature features: the musical show of the fountain shooting 85-feet in the air, the 44-foot-high cascade trickling down rocky rivulets, the paddlewheel boat hosting a dinner-show cruise, and why not, an indoor lake.
Children with moon-rounded eyes and gaping mouths pointed fingers like magic wands. Kid-friendly activities began with one of their beloved characters, phoning to invite them for breakfast. Playtime followed in real snow on the six-lane hill of the Artic Plunge Snow-tubing, and down the 20-foot-tall ice slide. Dr. Seuss's How the Grinch Stole Christmas was the featured musical, and Rudolf the Red Nose Reindeer lured us into his whimsical world.
After a dinner show with Larry Gatlin and the Gatlin Brothers, that year, our very last Christmas shopping ended on Opryland Main Street with the sweetest of stocking stuffers: Goo Goos—Nashville's treat of caramel, peanut, nougat, and marshmallow dipped in chocolate.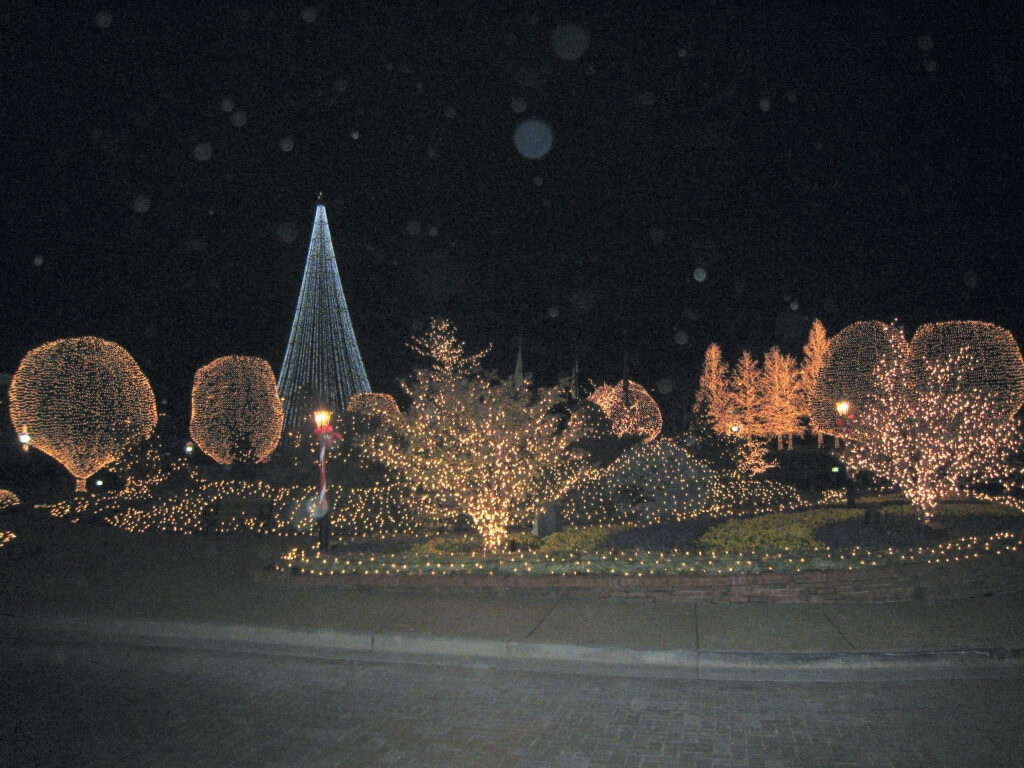 First published – 2011 Buckettripper